Metalizado auto adhesivo rasgar holográfico oro graba por paquete
Paquete:

Bolso de los PP y cajas de embalaje del holograma dentro y cartón estándar de la exportación embalaje blanco correa afuera

productividad:

10000000000

Marca:

NIP

transporte:

Ocean,Land,Air

Lugar de origen:

Suzhou

Capacidad de suministro:

1000000/Month
Información básica
Modelo: YXCP-06
Tipo: Materiales contra la falsificación
Material: MASCOTA, PET Or Bopp
Característica: Anti-falsificación
Uso: Película de embalaje
Sample: Available For Free
Keyword: Tear Tape
Pattern: Custom Hologram
Thickness: 28, 35, 36mic(general)/customiz
Color: Gold, Transparent, Silver, Etc
Feature: Anti-counterfeit Or Decoration
Security Processing: Micro Text, Optical Etching, Zoom In
Applicatioin: Medicine, Cosmetic, Cigarette, Etc Packaging
Width: 0.07 -5 Mm Or Customize
Descripción del producto
Metalizado auto adhesivo rasgar holográfico oro graba por paquete
Función de oro holográfica rasgar cinta
Cinta del rasgón, también conocida como tear cinta tira o rasga es una estrecha cinta adhesiva usada para abrir la presentación, proporcionando fácil de abrir, refuerzo y seguridad para su embalaje. Nuestra cinta del rasgón se puede aplicar a gran variedad de paquetes, cigarrillo, té, ropa, medicina, electrónica, cosmética, etc.

También puede Suply todos los tipos de cinta de HolographicTear como sigue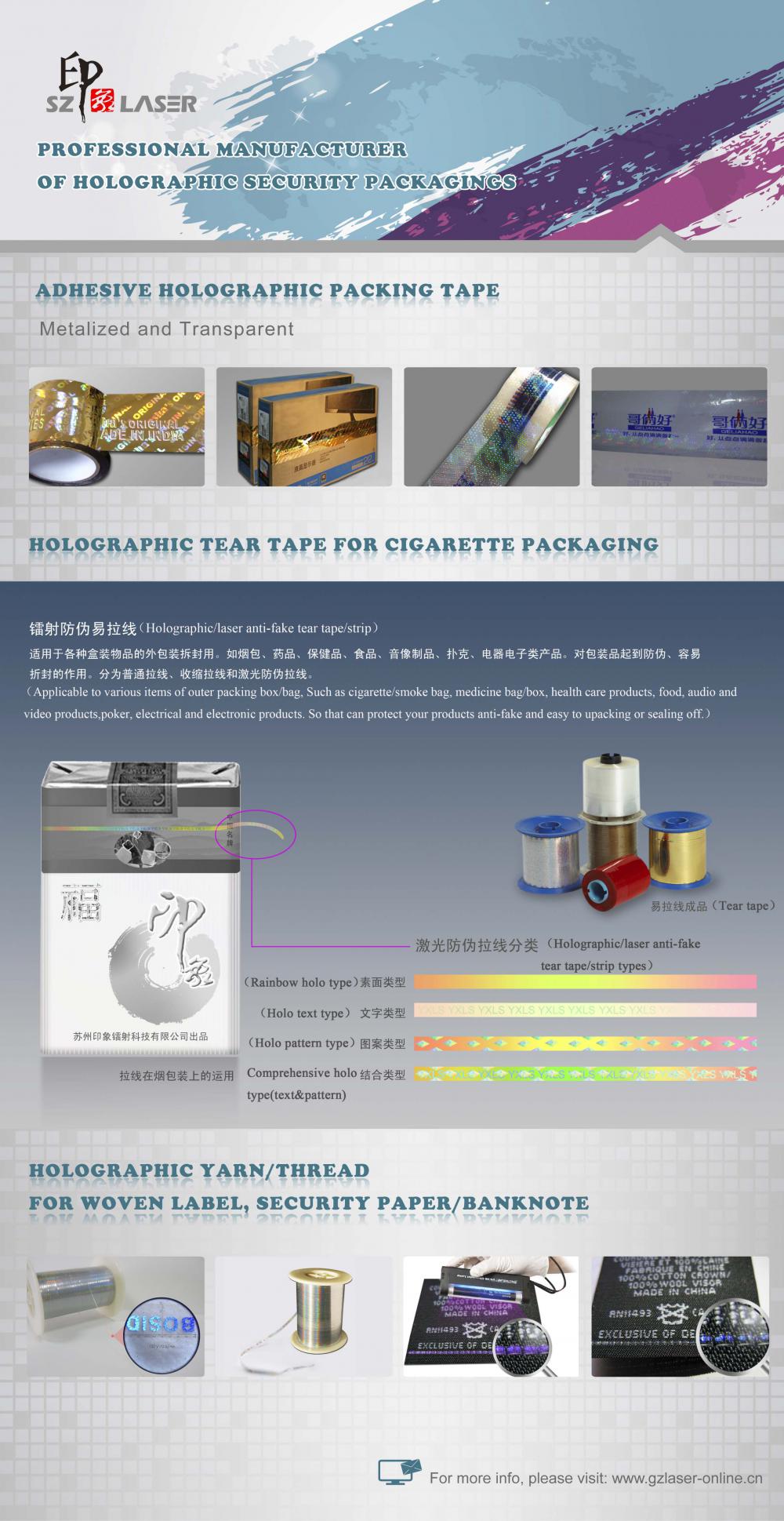 Información detallada de cinta holográfica del rasgón
| | |
| --- | --- |
| Feature | With hologram security function |
| Material | PET, BOPP |
| Color | Transparent/Silver/Gold, etc |
| Price | According to different sizes/quantities/materials/processes |
| Pattern | Customize |
| Width | 0.7 -5 mm, Custom is available. Minimum size: 0.7mm |
| Thickness | 28, 35, 36 mic(general)/customize |
| Length of roll | 5000-10000 m per Roll , based on customers' requirements. |
Cinta del rasgón abierto fácil de embalaje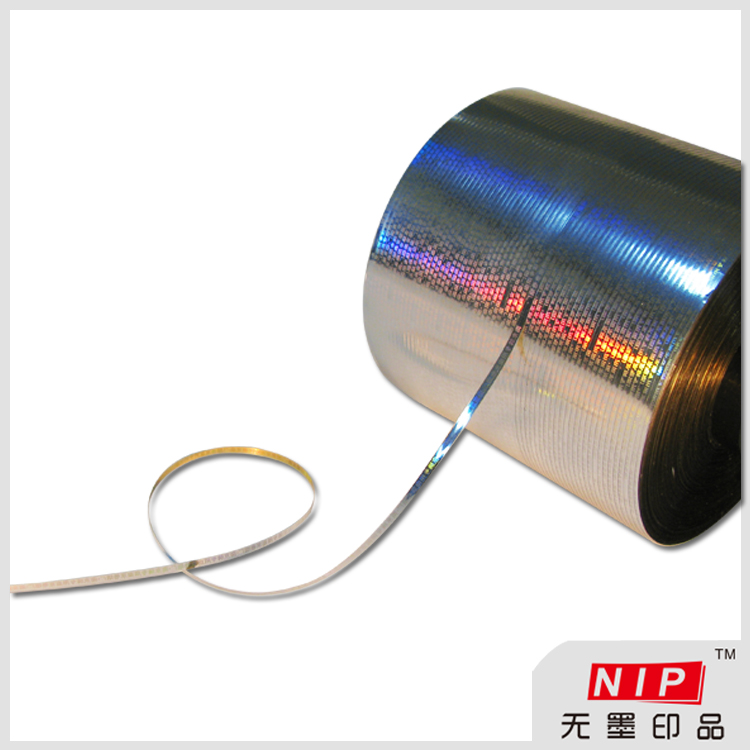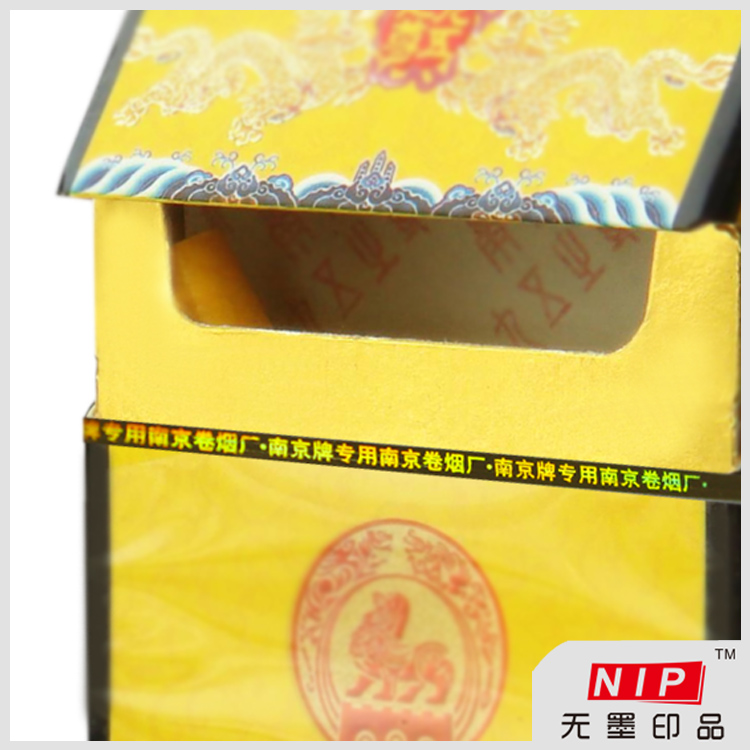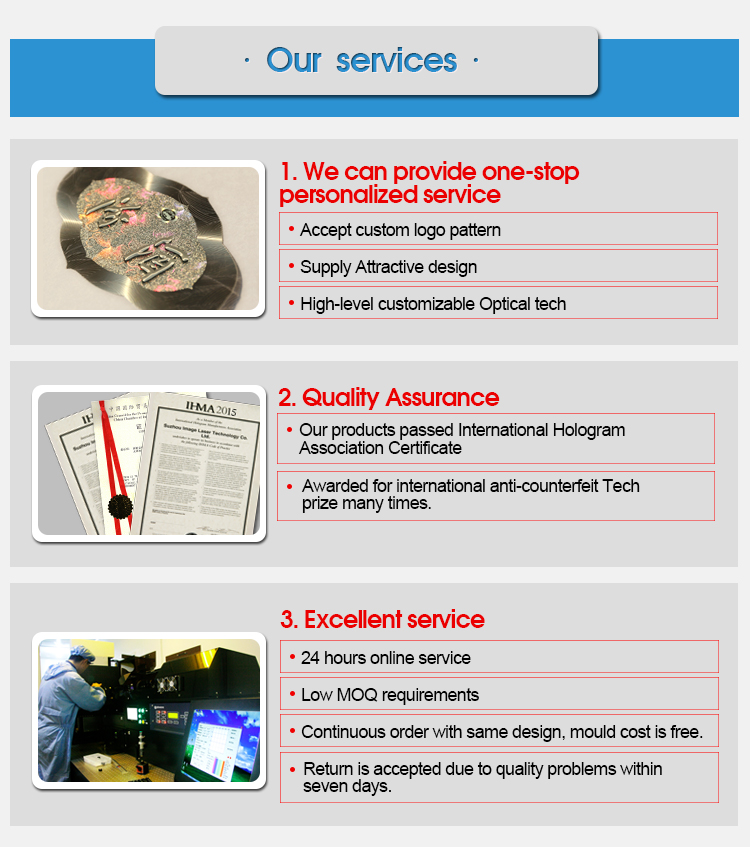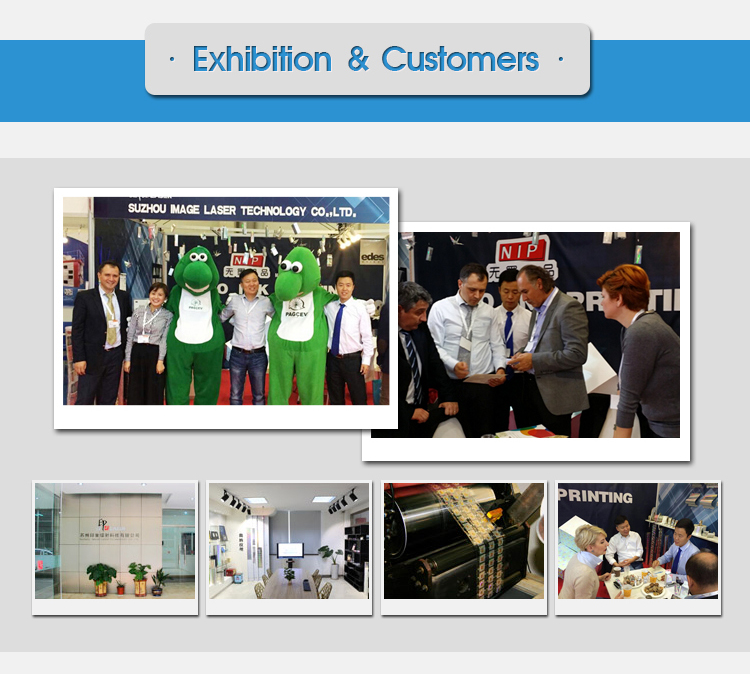 Preguntas frecuentes
1. ¿Cuál es su material de la cinta de lacrimógeno?
General de PET, material BOPP con 28, 30, 33, 35, 36 micras, etc.
2. cinta del rasgón holográfico, cualquier especificación, cualquier color, usted puede hacer por mí?
Sí, disponible en varias especificaciones y colores, como el 0,7, 1, 2, 2.5 mm, etc.. Color puede ser transparente, oro, plata, etc.. Estos también se puede hacer según los requisitos específicos de clientes.
3. me podrias mandar algunas muestras de cinta del rasgón?
Las muestras están disponibles, enviamos gratis con la carga recoge. Proporcione por favor su cuenta expresa o por favor, pagar el flete a nosotros. Arreglaremos las muestras tan pronto como sea posible.
4. ¿Puedo utilizar su propia insignia patrón?
Por supuesto, nuestro equipo de diseño profesional le ayudará a usted diseño sorprendente efecto de holograma. También podemos agregar Micro texto, texto oculto, grabado de pixel, tecnología de alta seguridad etc para usted.
Bienvenida a visitar nuestra empresa. Para más detalles, visite nuestra página web http://gzlaser.en.alibaba.com/ o http://www.nip-optics.com/
Grupos de Producto : Cinta del rasgón holográfica > Cinta auto adhesiva lágrima