20 micras etiqueta engomada de sellado caliente del holograma con muestra gratis
Paquete:

Bolso de los PP y cajas de embalaje del holograma dentro y cartón estándar de la exportación embalaje blanco correa afuera

productividad:

10000000000

Marca:

NIP

transporte:

Ocean,Land,Air

Lugar de origen:

Suzhou

Capacidad de suministro:

1000000/Month
Información básica
Modelo: YXCP-03
Tipo: Etiqueta en el molde
Material: PET
Tipo de impresión: Impresión de transferencia
Característica: Anti-falsificación
Uso: Etiqueta engomada de encargo, Bebida embotellada, Comida, Etiquetas de precio, Etiquetas de envío, Película de embalaje, Medicina
Size: As Customers' Requirements
Thickness: 115, 20, 25, 30 Micron
Color: Transparent, Silver, Gold, Green, Etc
Shape: Round, Square, Oval, Triangle, Etc
Pattern: Generic Patterns Or Personalized Hologram Logo
Type: Hot Stamping Hologram Sticker
Structure: Hologram + Pressure Sensitive Adhesive + Silicon P
Feature: Eco-friendly, Anti-counterfeit, Attractive
Combine With Other Processing: Serial Number, QR Code, Logo Printing, Etc
Sample: Available For Free
Descripción del producto
20 micrones caliente sellado etiqueta engomada del holograma con muestra gratis
Personajes de calor sellado del holograma, etiqueta engomada del holograma de sellado caliente
1. presentación del efecto óptico atractivo con diseño libre de
2. puede ser impreso con texto personalizado, imágenes para logos para mayor seguridad
3. efecto 2D/3D combinan con numeración, código QR, tinta especial, etc.
Especificación
Material
15/20 micron silver PET
Type
hot stamping, heat transfer
Pattern
Custom logo pattern
Combine with other processing

Serial number, QR code, UV ink printing, etc
Feature

1) eco-friendly

2) anti-counterfeit, colorful, brand protection

3) eye-catching design help you wine the market.

Packaging
In roll, width: 10mm
Foto de caliente sellado etiqueta engomada del holograma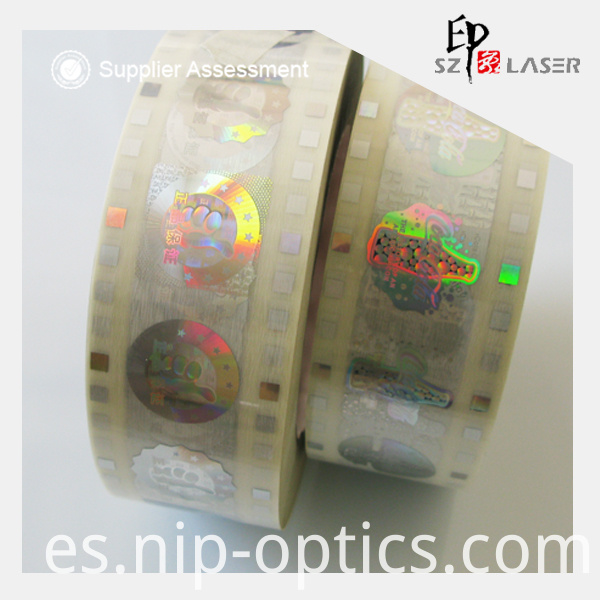 Etiqueta engomada del holograma cuadrados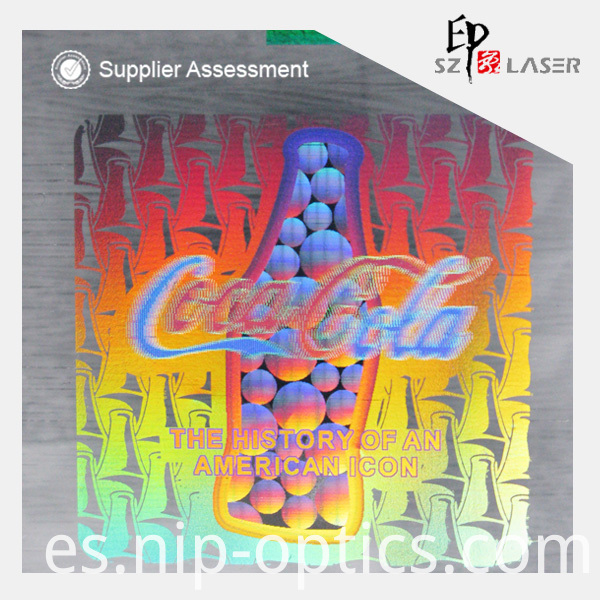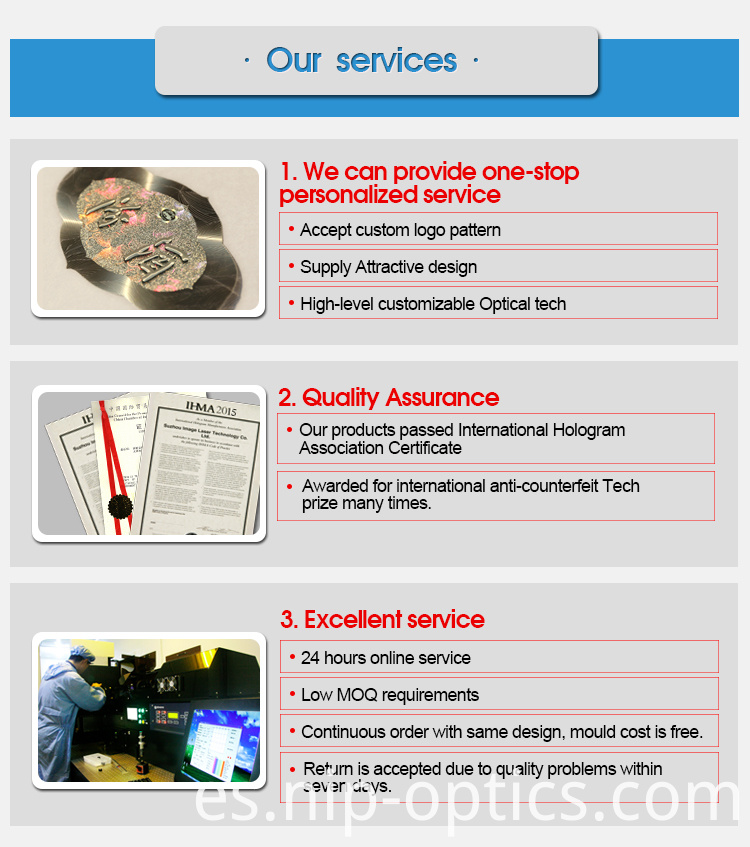 Nuestra etiqueta engomada del holograma puede aplicarse a varios envases, como alimentos, cosméticos, medicina, ropa hangtag, etc.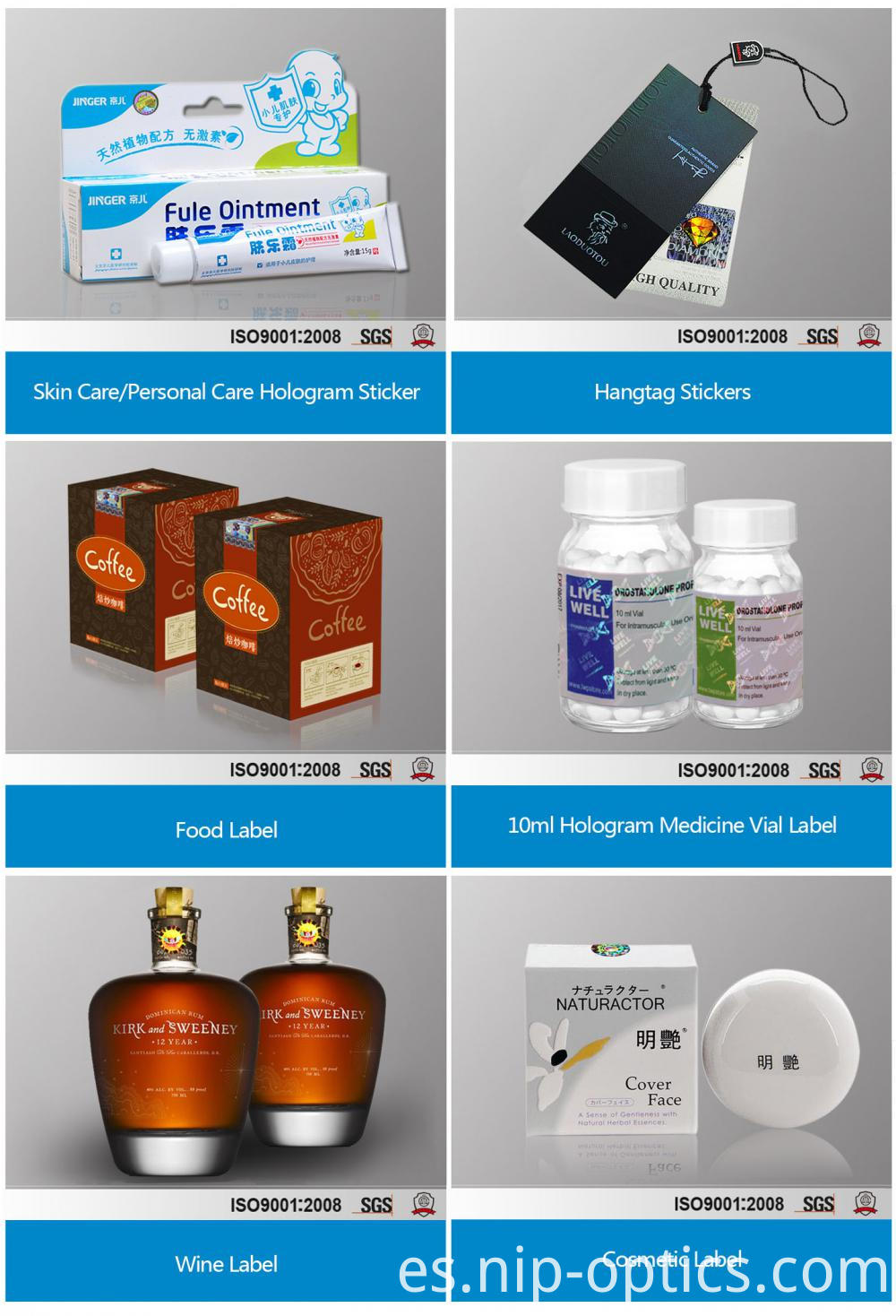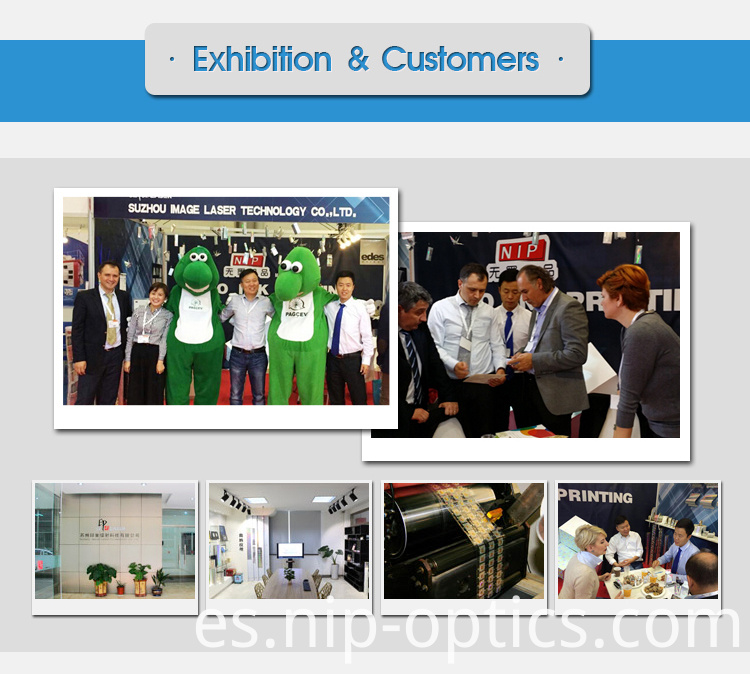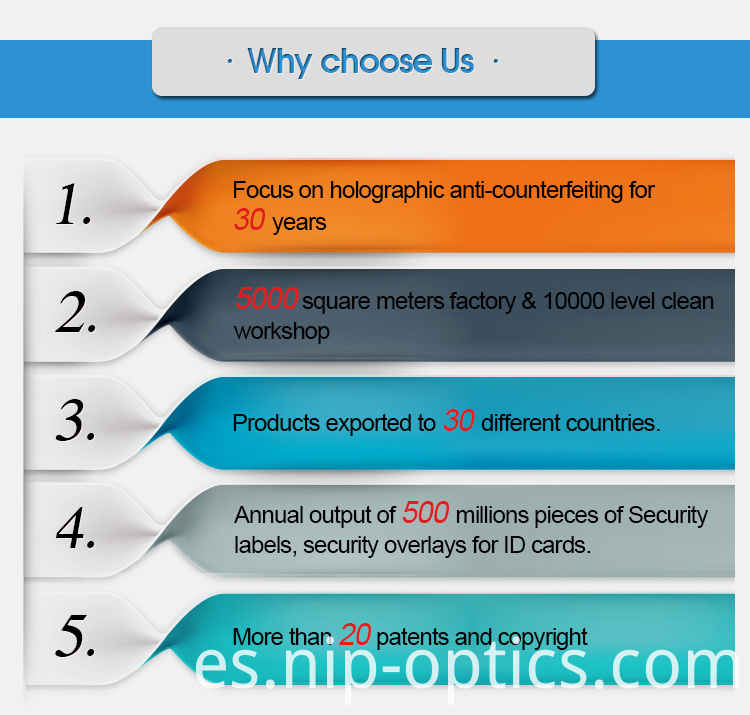 Con frecuencia pregunta
1 . ¿Cuál es su material de la etiqueta engomada?
Generalmente Material con 30 micrones de mascotas, también se puede personalizar.
2. ¿se puede hacer anti- peeling o adulteración evidente del holograma etiquetas?
Sí, podemos hacerlo como vacío, nido de abeja o cliente logo.
3. cualquie forma, cualquie color, usted puede hacer por mí?
Redondo, óvalo, cuadrado, triángulo, ambos son aceptables. Transparente, plata, oro, etc.
4. me podrias mandar algunas muestras de la etiqueta engomada?
Las muestras están disponibles, podemos enviar gratis con flete cobrar.
5. Puedo usar su patrón genérico con mi logotipo impreso?
Sí, podemos imprimir su insignia en el fondo de nuestro patrón genérico, como genuino, seguridad, etc.. Usted también puede Agregar el número de serie, códigos de barras, código QR, etc.
Bienvenida a visitar nuestra empresa. Para obtener más información, visite nuestro sitio Web.
    Del Pouch, a cardinal health product manufacturer in Philadelphia, USA, received one of the two highest achievement awards. Its packaging was developed by Pechiney Plastic Packaging, and the winning reason was to solve the problem of difficult packaging of ointments, lotions and oils. This single-dose package is...

Designer brand Jesus del Pozo Perspective Underwear

Designer brand Jesus del Pozo Perspective Underwear At the Pasarela Cibeles fashion show in Madrid, Spain on February 16, local time, models are presenting the latest work by designer Andres Sarda. 3. The charming body of the model is looming under transparent underwear and is sexy and seductive. Designers brands Jesus del...
Grupos de Producto : Etiqueta engomada del holograma > Holograma de sellado caliente