Cinta del rasgón holográfico oro ecológico con 0,2 cm de ancho
Paquete:

Bolso de los PP y cajas de embalaje del holograma dentro y cartón estándar de la exportación embalaje blanco correa afuera

productividad:

10000000000

Marca:

NIP

transporte:

Ocean,Land,Air

Lugar de origen:

Suzhou

Capacidad de suministro:

1000000/Month
Información básica
Modelo: YXCP-03
Tipo: Adhesivos Hot Melt
Eficacia (para la cinta): Otro uso especial
Material de la etiqueta: Película láser
Materiales de superficie (para adhesivo): PET de poliéster
Material de la superficie: MASCOTA
Adhesivo (para etiqueta): Etiqueta adhesiva
Técnica: Impresión offset
Tipo de membrana (para adhesivo): MASCOTA
Papel de respaldo (para adhesivo): Papel kraft
Sample: Available For Free
Pattern: Generic Or Custom Hologram
Keyword: Tear Tape
Thickness: 35micron
Width: 0.7-3mm Customize
Color: Gold, Silver, Transparent
Security Features: Micro Text, Flip-flop, UV Ink
Packaging: In Roll With 5000m Or 10000m
Feature: Brand Protection And Promotion
Descripción del producto
Cinta del rasgón holográfico oro ecológico con 0,2 cm de ancho
Característica de la cinta del rasgón holográfica, lágrima dorada cinta, cinta del rasgón de respetuoso del medio ambiente
1 ) Material respetuoso del medio ambiente PET y BOPP
2) efecto óptico alucinante
3) impacto visual valorizar su producto
4) protección y promoción de la marca
Especificación de la cinta del rasgón
| | |
| --- | --- |
| Material | PET, BOPP |
| Color | Transparent, Silver, Gold, etc |
| Thickness | 28, 35, 36 micron (general) or customize |
| Width | 0.7-5 mm, custom is available. Minimum size 0.7mm |
| Pattern | General or Customized |
| Feature | Brand protection & Promotion |
| Usage | Applicable to outer packaging of food, medicine, cigarette, cosmetic, etc |
| Length of roll | 5000-10000m per Roll, based on customers' requirements. |
| Price | According to different sizes, quantities, materials & processes |
Olográfico rasgar cinta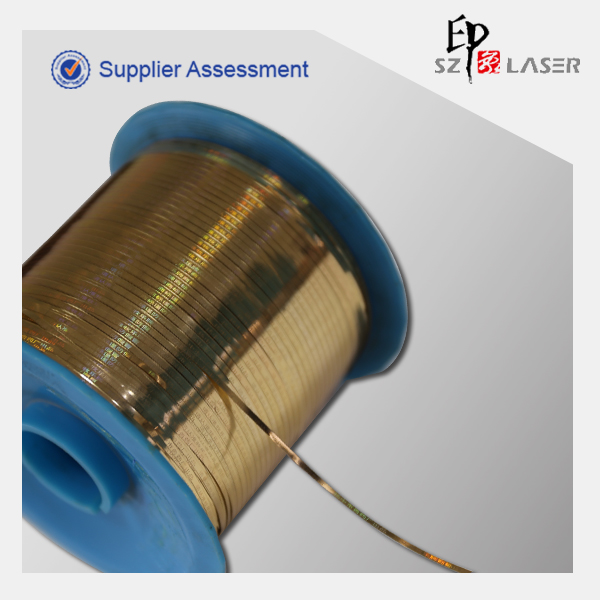 También suministramos todos los tipos de cinta del rasgón del holograma como sigue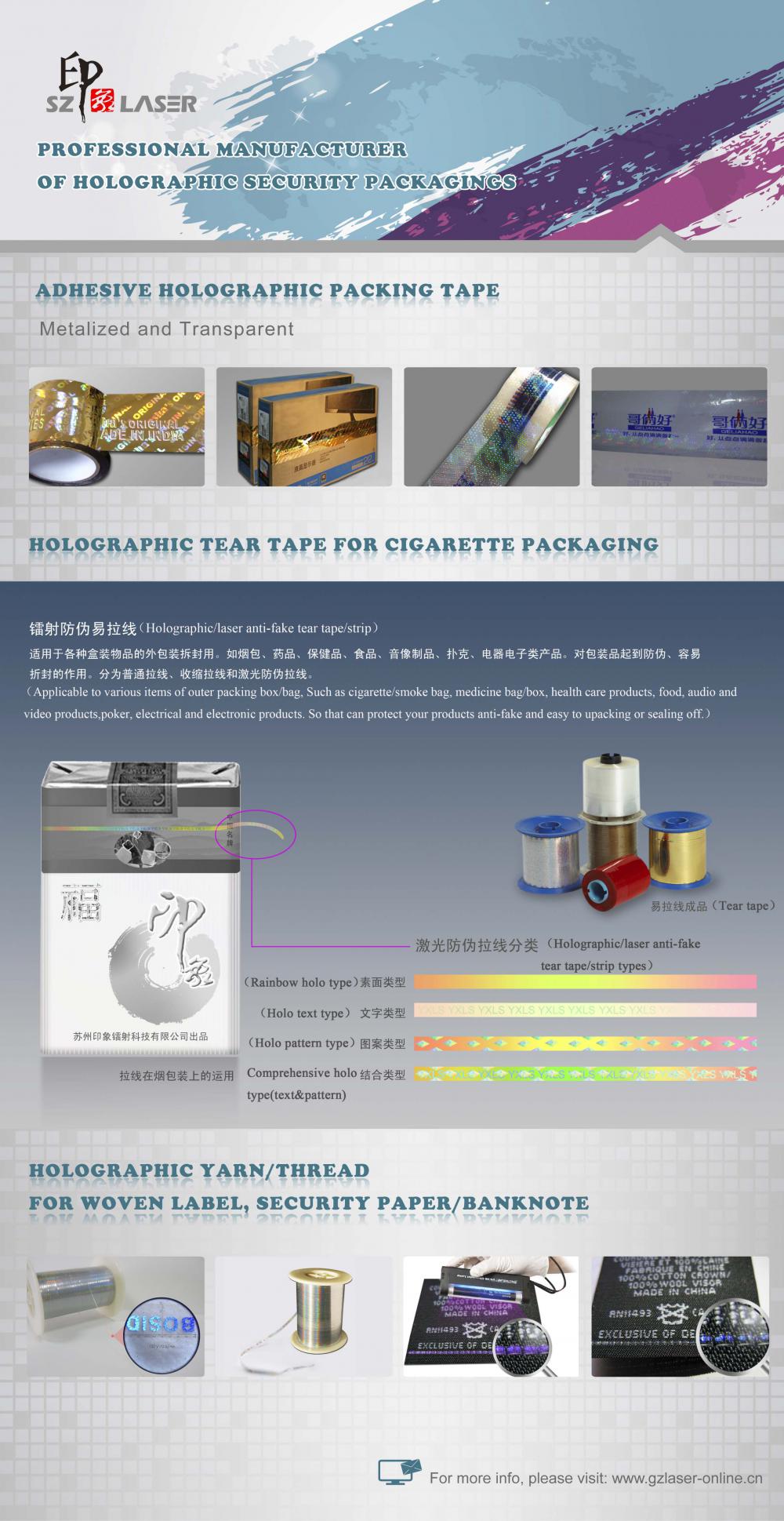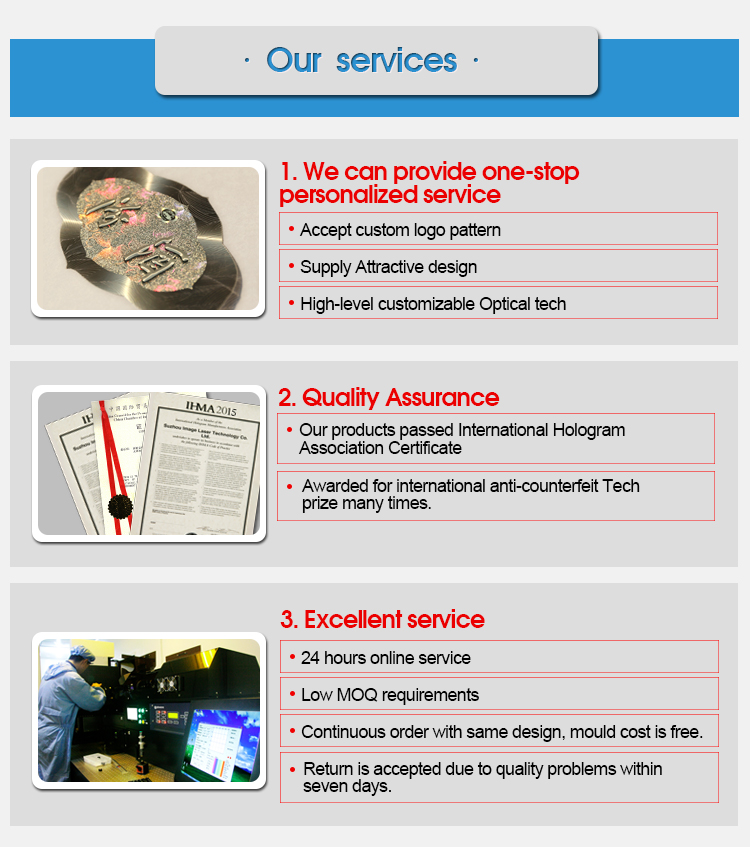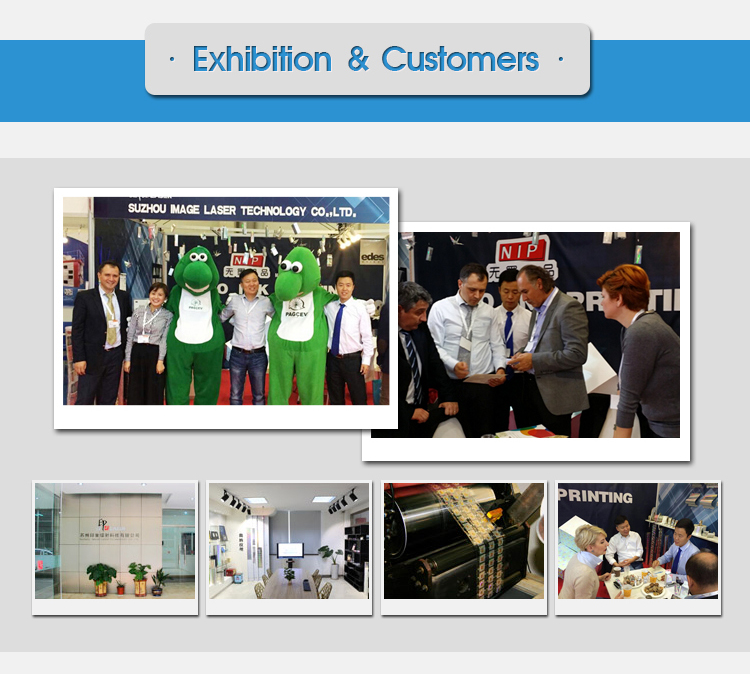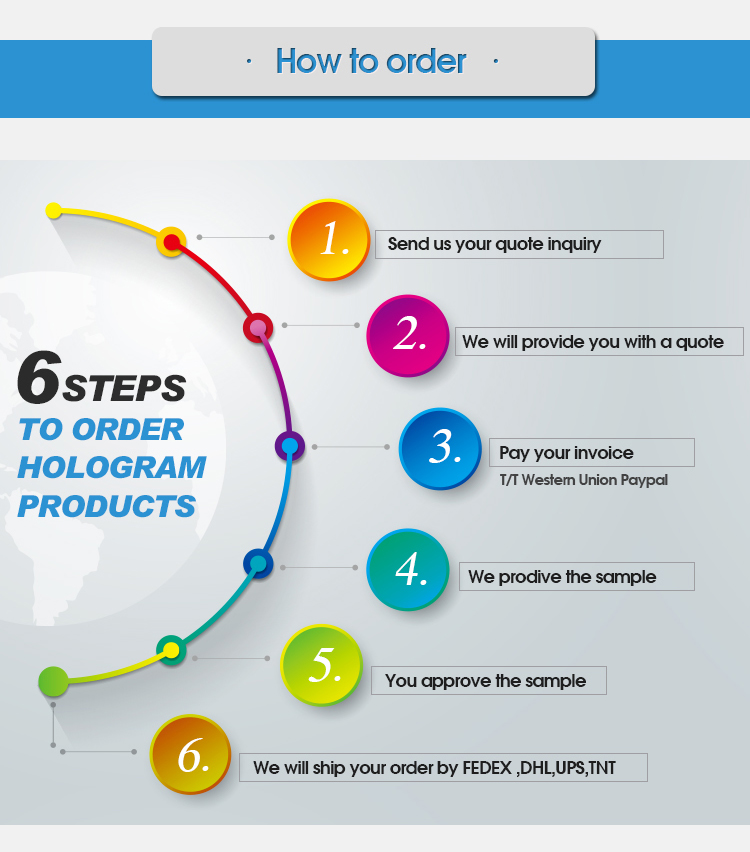 Preguntas frecuentes
1. ¿Cuál es su material de la cinta de lacrimógeno?
General de PET, material BOPP con 28, 30, 33, 35, 36 micras, etc.
2. cualquier especificación, cualquier color, usted puede hacer por mí?
Sí, disponible en varias especificaciones y colores, como 0.7 mm, 1 mm, 2 mm, 2,5 mm, etc.. El color puede ser transparente, oro, plata, etc.
3. podrían enviarme algunas muestras?
Las muestras están disponibles, nos podemos acabar gratuitamente con la carga recoge.
4. ¿Puedo utilizar su propia insignia patrón para la cinta del rasgón?
Por supuesto, nuestro diseñador diseñará sorprendente efecto de holograma para usted. También podemos agregar Micro texto, texto oculto, grabado de pixel, tecnología de alta seguridad etc para usted.
Bienvenida a visitar nuestra empresa. Para más detalles, por favor visite nuestro sitio Web.
    Del Pouch, a cardinal health product manufacturer in Philadelphia, USA, received one of the two highest achievement awards. Its packaging was developed by Pechiney Plastic Packaging, and the winning reason was to solve the problem of difficult packaging of ointments, lotions and oils. This single-dose package is...

Designer brand Jesus del Pozo Perspective Underwear

Designer brand Jesus del Pozo Perspective Underwear At the Pasarela Cibeles fashion show in Madrid, Spain on February 16, local time, models are presenting the latest work by designer Andres Sarda. 3. The charming body of the model is looming under transparent underwear and is sexy and seductive. Designers brands Jesus del...
Grupos de Producto : Cinta del rasgón holográfica > Cinta del rasgón holográfica